Insight, Collaboration, Agility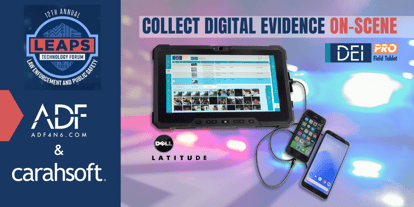 AFCEA of Bethesda is has moved the LEAPS 2020 conference to a virtual event. The dates will remain the same with a Wednesday evening virtual reception and panel and a Thursday conference which will feature interactive sessions led by government and industry leaders in public safety and law enforcement.
DATES:
July 29, 2020 - July 30, 2020
The #LEAPS2020 event will provide both executive leadership and operational perspectives on topics related to improving public safety in the age of modern technology, rapid collaboration and the ability to gain deep insights into data and information.
AI/ML and Big Data
Artificial Intelligence and Machine Learning (AI/ML) are changing the way data is collected, stored and analyzed. The new technology landscape has impacts for citizens, law enforcement and public safety. The LEAPS technology event will look at best practices for turning endless data points into actionable intelligence and will discuss ways that local, state and national agencies need to work together to have coordinated policies and operating procedures to benefit the communities they serve.
This typically local event is one of the best law enforcement conferences of the year and is open to government and military attendees for free. AFCEA members can join for just $149 and non-members can join for $199.
According to the organization's website, the "12th annual LEAPS Technology Forum, AFCEA Bethesda provides an interactive environment in which government and industry stakeholders share ideas and experiences on what is needed to achieve the insight, collaboration and agility to protect the homeland and all of its communities. We'll look at the role of technology in meeting this vision, and explore potential solutions to the common challenges of:
Using artificial intelligence and machine learning to develop better collection, sharing and use of data
Enabling greater collaboration across federal, state and local agencies in all aspects of law enforcement and public safety
Increasing the agility of agencies to respond to and manage significant events or crises
ADF's digital forensic specialist and trainer, Rich Frawley, will be showcasing the Digital Evidence Investigator® PRO Field Tablet. The DEI PRO Field Tablet combines ADF's automated digital forensic software capabilities for iOS, Android, Mac, Linux and Windows with the power and reliability of rugged Dell Latitude Tablets for front-line field agents.
See a list of 2020 Law Enforcement Conferences in North America.