ADF & Rosoka Bring the Power of Entity Extraction and Multi-Lingual Translation to the Front-Line in Triage-G2Ⓡ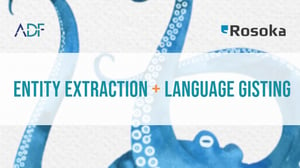 Bethesda, Maryland: ADF Solutions, the leading provider of automated forensic software for investigators and lab examiners, today announced the ability for on-scene and lab investigators to leverage the power of Rosoka to speed their investigations of structured and unstructured data in over 200 languages.
Rosoka text analytics brings the power of automated multilingual entity extraction directly into ADF digital forensics software through a tightly integrated user experience. Rosoka text analytics runs locally on the investigator's computer, processing documents in over 200 languages to identify entities, and locations in unstructured documents. Learn more about the partnership at www.adfsolutions.com/partner/rosoka
Rosoka Entity Extraction and Multi-Lingual Translation capabilities are now standard in Triage-G2Ⓡ software and available as an add-on for Digital Evidence InvestigatorⓇ, Triage-InvestigatorⓇ, and Mobile Device InvestigatorTM software.
Qualified professionals can request a free trial of ADF forensic software at www.tryadf.com.
"As a standard in Triage-G2Ⓡ, Rosoka functionality will allow front-line operators to speed their intelligence gathering with the ability to view translated data from structured and unstructured evidence so they can make better-informed decisions starting on-scene", stated Raphael Bousquet of ADF Solutions.
"ADF has done a great job integrating Rosoka capabilities into their digital forensic software so investigators can quickly take advantage of entity extraction and natural language processing when investigating mobile and computer devices," stated Kurt Michel, President of Rosoka. "Investigations are more and more complex at a time when speed is also a requirement. ADF's seamless investigation workflow allows investigators to do their job more effectively and act quickly on critical intelligence."
About ADF Solutions, Inc. ADF Solutions is the global leader in automated digital forensic software for digital investigations. ADF tools streamline digital investigations, reduce forensic backlogs, and provide digital evidence results and intel from iOS and Android smartphones and tablets, as well as computers, external drives, drive images, and other media storage (USB flash drives, memory cards, etc.) devices. Rosoka capabilities are included in Triage-G2® and can be purchased as an add-on to Mobile Device Investigator™, Digital Evidence Investigator®, Triage-Investigator® or any of ADF's PRO tools.
About Rosoka Software, Inc.
Rosoka pioneered the philosophy that the content should speak for itself. Rosoka's multilingual product suite is used to enhance mission-critical solutions in a wide range of applications and markets. Today Rosoka software provides optimized insights by extracting entities, relationships, sentiment, and location from documents in over 200 languages. For more information visit www.rosoka.com or contact us at info@rosoka.com.