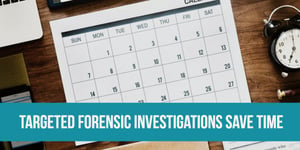 A criminal forensic lab located in one of the largest U.S. Federal agencies was working on an extensive child exploitation case and had seized 37 total hard drives that contained over 38 terabytes of data. The case was high profile and the forensic team had a short window of time to examine the contents of the confiscated drives. Technical resources were limited and imaging drives and conducting traditional forensic examinations would be very time consuming. With the amount of data that needed to be searched, the investigators realized that it could potentially be weeks before the examinations were complete and the case could move forward. In addition the case would require significant disk storage space to hold all of the images.
To speed the investigation, investigators utilized ADF software to conduct targeted forensic examinations to help determine which drives would require imaging and a traditional examination thereby saving valuable time and storage space. In less than one week the lab was able scan the drives to determine which ones contained the incriminating files.

The targeted examinations identified 5 drives with a combined capacity of 2.3 terabytes that contained the evidence. Once isolated, these drives were sent for traditional examinations and were found to contain over 1,400 videos and 1,900 images of child pornography. In addition, the forensic team was able to easily preview the video content within the ADF software, which extracted frames to analyze, and quickly provided a report of the content to the case agent.
By using targeted examinations and ADF software, the lab was able to dramatically save valuable time and technical resources, which:
Reduced the drive processing time by two thirds
Saved time and disk storage by isolating the drives with incriminating files
Examiners scanned computers for incriminating files without imaging and ran multiple silmultaneous scans
Decreased the number of traditional forensic examinations required, saving valuable time and technical resources
Turned a seemingly overwhelming task into an easily manageable investigation
Police, sheriffs, and law enforcement task forces worldwide are utilizing ADF software to perform targeted forensic examinations to save time in child exploitation cases where investigators seek to identify Child Sexual Abuse Material (CSAM).
Read about a typical Child Exploitation case where investigators solved using Digital Evidence Investigator® by locating thumbcache images or watch a short video to learn how to collect files by targeted folders to speed a forensic investigation with Digital Evidence Investigator® ADF's flagship computer forensic software being used by Internet Crimes Against Children (ICAC) Task Forces to identify victims and suspects and solve crimes quickly.