The 2019 Techno Security & Digital Forensics Conference in Myrtle Beach, South Carolina will take place June 2-5 at the Marriott Resort & Spa at Grande Dunes. Attendees will have the ability to receive Continuing Professional Education Credits (CPE) depending on their organization.
Nearly 1,000 attendees are expected to attend with more than 100 sessions by about as many speakers. We recommend you select the full conference pass which gives you access to the keynote address, all sessions, the exhibit hall (50+ exhibitors) and networking receptions, breakfast and refreshment breaks on Monday, Tuesday and Wednesday as well as lunch on Monday and Tuesday.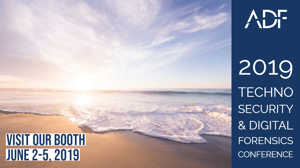 This year's keynote speaker is cybersecurity expert, author and speaker, Sherri Davidoff, the CEO of LMG Security and Brightwise. Read Sherri's bio. Other sessions include:
Digital Evidence in Fraud Investigations
4th Amendment Search and Seizure of Digital Data
A Unique Method to Extract Data from RAID with Lost Configuration
When and Why to Include Evidence from the Cloud in Your Investigations
Blockchain and eDiscovery: The Legal Impact of BlockChain Technology
Leveraging Deep Learning to Triage Pictures and Video
How to Determine if Your Subject Has Been Visiting the Deep or Dark Web
Forensics in the Corporate Cloud: How to Conduct Office 365 & Google Suite Investigations
From Dead Box to Live Memory: Breathing Context into Forensic Investigations
Cloud Forensics for Your Investigation
New USB Forensics
Cellular Technoogy, Mapping & Analysis
Chrome Nuts and Bolts: ChromeOS/Chromebook Forensics
The Next Generation of AI Technology Comes to Law Enforcement
Social Media Analysis and Counter-Terrorism
IoT Wireless Network Forensics
Rapid Triage & Digital Investigations on iOS, Android, Mac, Windows & More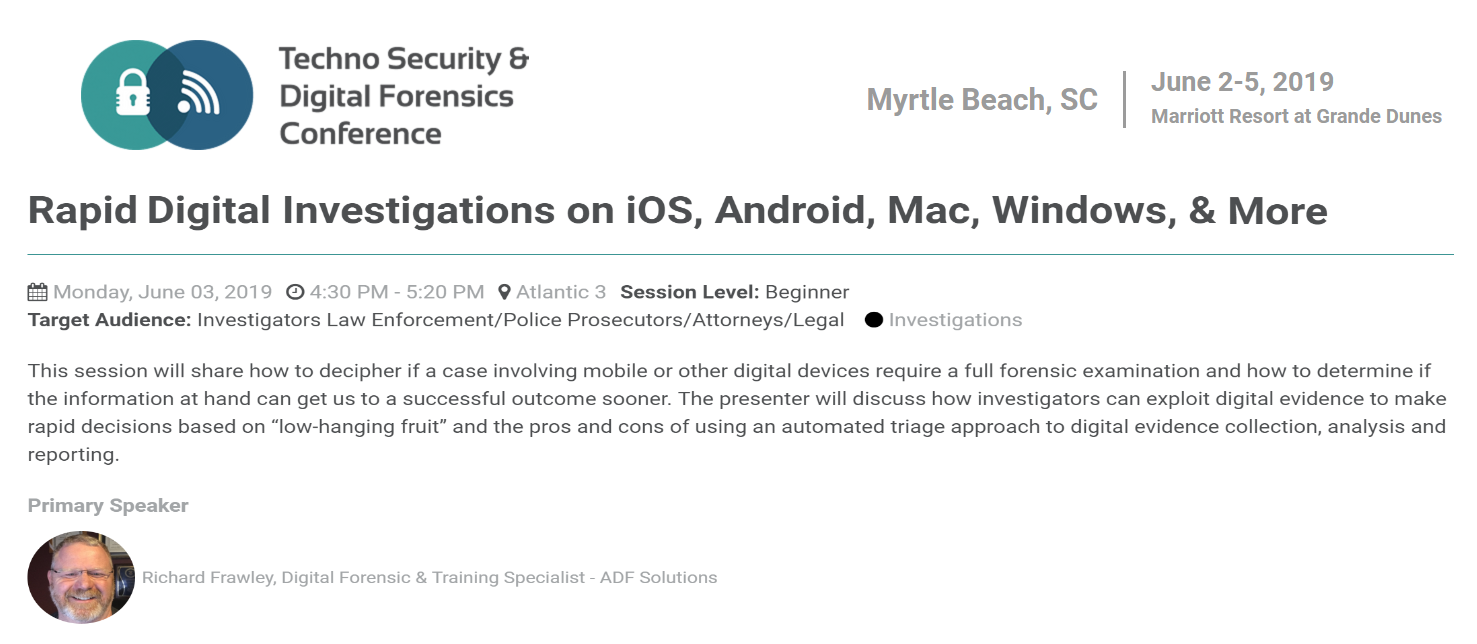 After last year's successful Digital Forensics at the Beach event, ADF Solutions returns to the event again as a Gold Sponsor. ADF will be showcasing ™, our easy-to-use digital forensic software for iOS and Android investigations.