Military forward operators can benefit from text analysis and translation
ADF Solutions, the leading provider of sensitive site exploitation software, now includes the ability for military forward operators to leverage the power of text analysis to speed their investigations of structured and unstructured data in over 200 languages.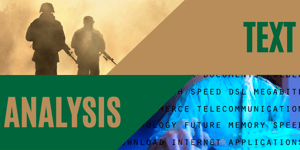 ADF integrated the Rosoka text analytics engine into Triage-G2 PRO to bring the power of automated multilingual entity extraction and text analysis directly into a tightly integrated user experience. Rosoka text analytics runs locally on the operator's computer, processing documents in 230+ languages to identify entities, and locations in unstructured documents.
Rosoka entity extraction and multi-lingual translation capabilities are now standard in Triage-G2Ⓡ and Triage-G2 PRO software and available as an add-on for Digital Evidence InvestigatorⓇ, Triage-InvestigatorⓇ, and Mobile Device InvestigatorⓇ software.
Qualified professionals can request a free trial of Triage-G2 PRO software.
As a standard in Triage-G2, Rosoka functionality will allow forward operators to speed sensitive site exploitation and intelligence gathering with the ability to view translated data from structured and unstructured evidence so they can make better-informed decisions starting on-scene.
"ADF has done a great job integrating Rosoka capabilities into their digital forensic software so investigators can quickly take advantage of entity extraction and natural language processing when investigating mobile and computer devices," stated Kurt Michel, President of Rosoka. "Investigations are more and more complex at a time when speed is also a requirement. ADF's seamless investigation workflow allows investigators to do their job more effectively and act quickly on critical intelligence."
Military forward operators worldwide rely on ADF Triage software for sensitive site exploitation and identity operations.