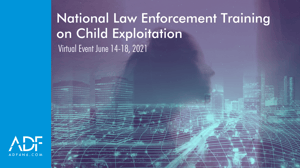 The 2021 National Law Enforcement Training on Child Exploitation training conference will be held online this year. This annual training event is designed to train and educate prosecutors, digital forensic examiners, investigators, and law enforcement professionals on specialized training in the subject of investigating and prosecuting technology facilitated Crimes Against Children.
Dates: June 14-18, 2021
Location: Online Virtual Event
The 4-day national training event is restricted to law enforcement and correctional officers as well as prosecutors dedicated to investigating and prosecuting technology and Internet Crimes Against Children.
Roughly 2,000 law enforcement and justice professionals from throughout the government are expected to take part in the training conference which will feature roughly 100 lecture workshops focused on the elimination and prevention of crimes against children.
You should attend if you are a member of an ICAC Task Force, or work on CSAM or CEM cases and hold the professional position of:
Law Enforcement Officer
Correction Officer
Prosecutor / District Attorney
Attendees from Local, City, State, Tribal, and Federal agencies throughout the U.S. and its territories, are expected to attend.
Previous NLETC speakers have included experts in the fight against child exploitation including the Department of Justice, Office of Juvenile Justice and Delinquency Prevention (OJJDP), federal agencies, city and local law enforcement, state prosecutors, and law enforcement, industry, and non-governmental organizations.
Previous popular training sessions have included:
Mobile Device Triage
CyberTip Investigation Best Practices
Interviewing Child Pornography Targets
Triage and Digital Evidence Investigations
Introduction to Online Undercover Chat
During the last in-person NLETC event in 2019, ADF Digital Forensic Training Manager, Rich Frawley, hosted a hands-on lab session: "Getting Started with ADF Digital Evidence Investigator & ICAC Investigations" which taught attendees how to prepare a collection key, perform a live scan and a boot scan, quickly review triage results, and how to configure a scan for a child exploitation case.
See other Internet Crimes Against Children training events, HTCIA conferences, and upcoming Law Enforcement Conferences.