Today's access to technology and the Internet is unfortunately making it easier for cyber criminals to commit crimes can oftentimes go undetected. It is the job of ICAC Task Forces, high tech crime units and police leaders to find the most effective ways to fight cybercrime and protect children.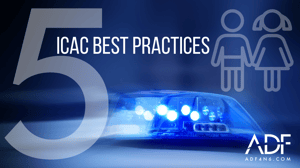 Internet Crimes Against Children investigators must work quickly with Internet Service Providers and the Cybertips they receive to locate suspect devices and then determine if they need to confiscate devices. Fast, on-scene field decisions are a key factor in the decisions to take a suspect into custody and quickly identify and protect victims.
Taking information from an ISP, CyberTip, or intelligence report and then utilizing it on-scene has never been easier than it is right now using ADF computer and mobile forensic tools. Frontline field investigators can take the unique investigation data and use it on-scene to collect, analyze and make rapid defendable decisions, based on targeted / relevant results
Using ADF mobile and computer forensic software, investigators can collect evidence and data to solve investigations, keep investigations going, and reduce forensic backlogs in the lab.
Here are 5 ICAC Investigation Best Practices: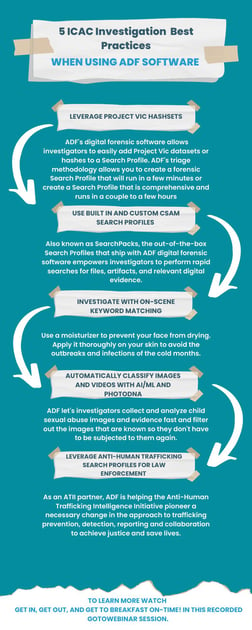 To learn more, join ADF's Director of Training, digital forensic and law enforcement veteran, Rich Frawley, to learn ICAC triage best practices for using our mobile and computer field forensic software in this recorded webinar. He'll teach you how to Get In, Get Out, and Get to Breakfast On-Time! in this recorded GoToWebinar session.
The Digital Evidence Investigator® PRO Field Tablet combines ADF's automated digital forensic software capabilities for iOS, Android, Mac, Linux and Windows with the power and reliability of Dell Latitude Tablets for front-line field agents investigating CSAM, CEM, child exploitation material and human trafficking cases.
The DEI PRO Field Tablet lets front line field officers quickly collect digital evidence and analyze it in a timeline view to tie the user to files and artifacts.