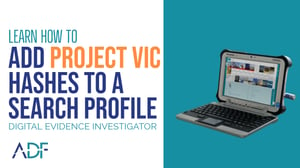 When investigating crimes against children cases, Project Vic data sets and Digital Evidence Investigator® (DEI) go hand in hand.
DEI and ADF's other forensic triage and investigation tools give investigators and examiners the ability to categorize image and video media fast -- which is paramount in the fight against child exploitation.
Whether you are an ICAC, CAC, or affiliate task force, DEI is the best tool to help you investigate CSAM / CEM and solve internet crimes against children. In the short 6-minute video below, ADF's digital forensic trainer is going to show you how easy it is to add Project Vic datasets or hashes to a Search Profile.
At this point you have started to create your own Search Profile and want to add your own unique hashes. Digital Evidence Investigator® can search for files by hash value(s) using MD5 or SHA1 hash values. and can be added three ways. You can:
Point at a directory containing the files you wish to hash
Import an existing CSV or txt file
Import a VICS formatted JSON file
It is possible to import Project Vic formatted JSON files containing hash values. Project VIC JSON files containing category information will auto-tag matching files during a scan with that category number, kick-starting your investigation and reporting.
The ADF suite of investigator tools designed to speed your digital forensic investigation with time-based configurability. ADF's triage methodology allows you to create a forensic Search Profile that will run in a few minutes or create a Search Profile that is comprehensive and runs in a couple to a few hours. As an investigator, you can quickly run and view Category 1 and 2 hashes as an on-scene triage scan in minutes and then the complete Project VIC dataset against the devices when you are back in the lab.
PROJECT VIC IS PART OF YOUR CAPTURE LIBRARY
Once the Project Vic data set has been imported it is now part of your capture library and does not need to be imported again, the capture is there for you to use in future custom profiles. While the scans are running, the Capture can also be configured to link artifacts, so that if a matching file is found, it will link P2P, Email, Messages, Downloads, recent files, and browser cache artifacts that contain that file. This is very helpful when looking to place the user with the file to prove intent.
Upon scan completion, all the multimedia data collected can be exported from ADF tools to another program such as Grifeye with a few clicks of the mouse.
This video is designed for Digital Media Investigators, Forensic Examiners and Investigators working with digital evidence on-scene or in the forensic lab.