With an ever-increasing number of adults owning a smartphone, it is no wonder that more and more crimes now commonly require mobile device evidence collection and analysis. The need for digital forensics tools is increasing around the world. The ultimate field forensics for the front line solution for police, sheriffs, school resource officers, field agents, and investigators. Connect a suspect device via a USB port to quickly collect evidence and perform an advanced logical acquisition (multi-protocol data transfer).
Collect - quickly determine smartphone evidence that is relevant to your case
Analyze - visualize and save case-specific items of evidentiary value
Report - create prosecutorial ready reports to back up your decisions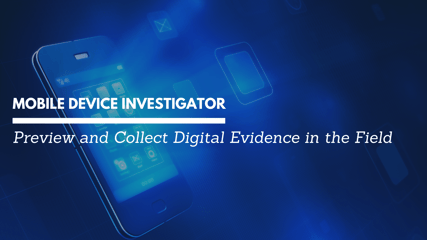 Mobile Device Investigator® enables anyone to quickly conduct iOS and Android investigations on-scene or in a forensic lab. Whether you are handling fraud and economic crime cases, child exploitation cases, counterterrorism, or performing any type of intelligence gathering or mobile investigation, MDI is the powerful mobile phone forensic software you'll want in your toolkit.
MDI gives you the capabilities you'll want at the frontline:
ADF Solutions empowers front-line field investigators and lab examiners to investigate on-scene or in the lab to quickly preview evidence on-scene, seize the appropriate devices, take a suspect into custody, identify any and all victims and prioritize devices in the lab.
Request Your Free 30-Day Trial of Mobile Device Investigator® and you'll receive free support from our digital forensic team so you can start solving your investigations on-scene with ADF's rapid, intelligent digital forensic software. ADF forensic tools are built for non-technical users operating on the front line.