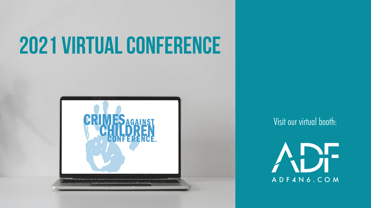 The 2021 Crimes Against Children Conference will be the 33rd annual conference organized by the Dallas Children's Advocacy Center (DCAC) and the Dallas Police Department. More than just another law enforcement conference, the event brings together child advocacy, child protective services, and law enforcement investigators.
Dates: August 9 -13, 2021
Register for the CACC conference.
Live sessions will be held from the 9th to the 13th of August, 2021 with content available to registrants through December 17, 2021.
This annual event is internationally recognized as the premier learning and networking event for those fighting crimes against children and helping children heal. The conference provides education to government and nonprofit employees from law enforcement, probation, child protective services, social work, children's advocacy, and those that work with young people who have been child victims of crime.
CACC Opening Plenary
Dutch filmmaker, Gwen van de Pas, who is a survivor of child sexual abuse, will speak at the opening session and will discuss her documentary, GROOMED, an in-depth perspective of the grooming process from the perspective of survivors and an offender. She will be joined by Bill Guttentag, a two-time Oscar winner who produced the film with van de Pas.
Workshops and Sessions
This year's CACC event will feature more than 120 sessions on a wide variety of topics of interest to children's advocacy and law enforcement alike. Law enforcement related topics include:
Advertising ID: A Primer for Your Investigation and Prosecution
The Brain Behind the Badge
Computer Forensics: Advanced Analysis for the Basic Examiner
Computer Triage 101: Five-Minute Forensics in the Field
Digital Media for Law Enforcement and Victim Identification
Identifying Human Trafficking Trends in the Technology Era
Improving Forensic Techniques for SSD Acquisition
Saving Data from Social Media Sites
Social Media and Open-Source Intelligence (OSINT)
Using Google Earth to Enhance Investigations
Windows Wi-Fi Profile Data
Wrangling Routers and Corralling Devices
Who's Speaking at Crimes Against Children 2021?
Speakers from previous years have included representatives from organizations including:
Adobe
ADF Solutions
Bain & Company
Banner Healthcare
Cook Children's Medical Center
Department of Defense
Facebook
FBI
Garland Police Department
Holman Police Department
Illinois Public Schools
Jenna's Law
LinkedIn
Microsoft
Missouri State Highway Patrol
Montgomery County DA's Office
National Center for Missing & Exploited Children
NCJTC
NW3C
Pennsylvania State University
U.S. Department of Justice Human Rights and Special Prosecutions Section
U.S. Marshals Service
San Diego County District Attorney
Snap, Inc
Texas Advocacy Project
Thorn
Verizon Media
Zero Abuse Project
ADF Solutions will be a virtual exhibitor at the Crimes Against Children Conference event to provide law enforcement and ICAC task force investigators with information on the DEI PRO Field Tablet - the best triage and field forensic tool for mobile and computer investigations.
Federal, state, local, and tribal law enforcement agencies rely on ADF's automated digital forensic software to help them rapidly investigate child exploitation cases beginning on-scene and in a forensic lab. ADF software Mobile Device Investigator®, Digital Evidence Investigator® and Triage-Investigator® leverage the Child Abuse Image Database (CAID) and Project Vic hashsets to speed image identification and classification thereby making it easier for ICAC Task Force investigators to quickly identify and safeguard victims.