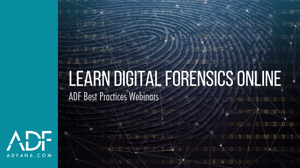 There are many ways to learn digital forensics. From Certified Training to short How-To videos designed to teach you skills in just a few minutes. One of our favorite forms of learning, however, is our one-hour digital forensic best practices webinars led by our Director of Training, Richard T. Frawley. Rich spent 22 years in law enforcement. Most of that time was as a digital forensic analyst. Here are some of our favorite learning webinars from this year:
Don't wait for time-consuming backups! Learn how to use Instant Mobile Preview and how to Screenshot Mobile Phones and how the OCR Text Analysis helps you search and find relevant evidence. Watch this webinar now.
Benefits of Digital Forensic Triage
Learn how triage allows you to prioritize evidence, make decisions on the need for a further deep dive into the data, or just to gain peace of mind, based on the facts. You'll learn how Triage can be used in the forensic lab or in the field by trained investigators. Watch this webinar now.
Investigating Child Exploitation Cases
Mobile phones have changed the way children are exploited and computers are still a problem in the continuing fight against child exploitation. With the proliferation of Child Sexual Abuse Material (CSAM) today, investigators must use technology for good in the fight against child exploitation. ADF digital forensic tools are used by high-tech crime units fighting child exploitation worldwide. Watch this webinar now.
Solving Fraud & Economic Crimes
Learn how Digital Crimes Units are saving time using ADF's intelligent approach to investigating cases quickly thereby reducing the need to image every device and reducing forensic backlogs. Watch this webinar now.