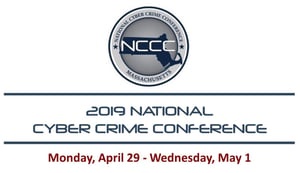 The Massachusetts Attorney General's Office (AGO) has announced the dates for the 2019 National Cyber Crime Conference (MASS.gov). This year's conference will be held April 29 - May 1, 2019 in Norwood, Massachusetts thanks to Attorney General Maura Healey, the National White Collar Crime Center (NW3C), SEARCH, and the National Attorneys General Training and Research Institute
First 100 registrants get a discount:
Use discount code: EarlyBird to save $50.00
The NCCC event will feature "three days of extensive training full of instructions and conversations on the most recent and challenging cyber crime concerns for law enforcement. To learn more about the types of training, conference sessions, or to learn more about who typically attends, take a look our 2018 NCCC Highlights post.
ADF is a regular sponsor of this Massachusetts Cyber Crime Conference and it is on our list of the Best 2019 Law Enforcement Conferences in North America.
To attend the National Cyber Crime Conference (NCCC) or learn more, visit the organizations CVENT Registration Page.