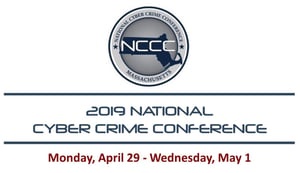 The Massachusetts Attorney General's Office (AGO) has announced the dates for the 2019 National Cyber Crime Conference (MASS.gov). This year's conference will be held April 29 - May 1, 2019 in Norwood, Massachusetts thanks to Attorney General Maura Healey, the National White Collar Crime Center (NW3C), SEARCH, and the National Attorneys General Training and Research Institute
First 100 registrants get a discount:
Use discount code: EarlyBird to save $50.00
The NCCC event is one of the primary US law enforcement conferences that will feature "three days of extensive training full of instructions and conversations on the most recent and challenging cyber crime concerns for law enforcement. To learn more about the types of training, conference sessions, or to learn more about who typically attends, take a look our 2018 NCCC Highlights post.
ADF is a regular sponsor of this Massachusetts Cyber Crime Conference and it is on our list of the Best 2019 Law Enforcement Conferences in North America.
To attend the National Cyber Crime Conference (NCCC) or learn more, visit the organizations CVENT Registration Page.
ADF Solutions supports investigation of cyber crime by providing on-scene and forensic lab tools that empower law enforcement agents to quickly triage and investigate computers and digital devices.
Digital Evidence Investigator® (DEI) software is the #1 automated digital forensic tool for collecting files and artifacts - with evidence presented in a timeline view. DEI features include:
Automated / easy-to-use digital evidence collection & analysis
Rapid artifact & file collection
Out-of-the-box forensic scans
Highly configurable to build your case fast
Can be deployed with ADF

Triage-Investigator® software
Standalone report viewer

(share with prosecutors!)
Our digital forensic investigator will be providing hands-on training for law enforcement professionals attending the cyber crime conference so they can get a free DEI trial to take back to their department to speed their investigations.