Knowledge is power. At ADF, we strive to empower our users and prospective users by giving you easy access to free tutorials and knowledge base articles. We've received rave reviews for our short How To videos, so we wanted to share another way investigators can get support - the ADF Knowledge Base.
What is the ADF Knowledge Base?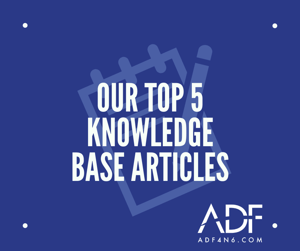 The knowledge base is a library of articles based on customer's frequently asked questions. We built it so that investigators, prosecutors, and digital forensic industry professionals, can help themselves to help articles without having to submit a support ticket - which is free for ADF customers, by the way.
Here's a list of the 5 most viewed Knowledge Base articles to get you started:
1) Booting a Lenovo Yoga 720 with a NOVO Button.
2) How to retrieve the serial number of a removable drive (PowerShell instructions)
3) How to find your ADF license file and Support Code
4) What is the "ADK" and why do I need it?
5) How do I Boot Scan a Mac with APFS and FileVault2?
Need to find help on a specific topic but aren't sure where to look? Just go to the search bar on any ADF website page and type in your question keywords. Alternatively, you can visit the knowledge base and type your question there.
Need additional support? ADF is proud to offer a variety of solutions for our customers. Our digital forensic and triage webinars range from product-specific topics to topics that are relevant to your investigations, such as Investigating Child Exploitation Cases on-scene or how to choose the right search profile and solving fraud and economic crimes. Looking for something shorter? Check out our How To videos for 3-6 minute videos explaining tips and tricks for utilizing our software to speed your digital investigation. If you need more in-depth assistance, you can always request support from our team of law enforcement and digital forensic veterans.
We hope with our variety of support options you'll feel supported and knowledgeable about our products. Utilize the knowledge base to build your repertoire of skills with ADF software. We know it will help speed your investigations and reduce your backlog!