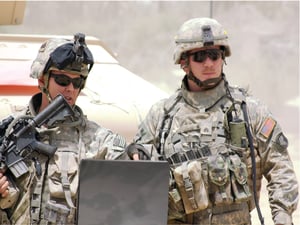 ADF Solutions, a leading provider of digital forensic and media exploitation software, has released Triage-G2, the latest evolution of ADF's award-winning media exploitation tool. Triage-G2 is deployed by special forces, military and intelligence agencies worldwide and has a proven track record of supporting site exploitation missions, including Tactical Media Exploitation, DOMEX, MEDEX, and biometric identity operations.
Designed for nontechnical operators, Triage-G2 employs a simple two-step process to rapidly scan, extract, and analyze critical intelligence from computers and digital devices. The tool can be deployed on existing computing devices and on a small portable USB key. The collected data can then be easily distributed via portable reports or ingested into data repositories, which include Processing, Exploitation and Dissemination Systems (PED).
"Military agencies and special operations forces have to conduct site exploitation operations under a wide range of situations, including extreme conditions," said J.J. Wallia, CEO and Co-Founder, ADF Solutions. "Triage-G2 is a very easy to use, fast, and extremely portable exploitation tool, providing field operators the capability to accomplish site exploitation mission objectives."
Key Triage-G2 capabilities include:
Extreme ease of use, with minimum training required (one-half to one day).
Portable, lightweight deployment utilizing a rugged USB key.
Immediate identification and analysis of actionable intelligence by leveraging highly scalable watch lists.
Easy ingestion of collected data into other data repositories.
Automatic production and collation of intelligence reports.
Powerful booting (including UEFI secure boot and Macs), providing access to internal storage that cannot easily be removed.
Both forensically sound and stealth mode (to support covert operations) capabilities.