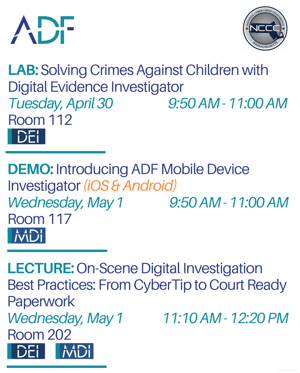 If you're headed to the 2019 National Cyber Crime Conference in Noorwood, MA next week please make time to stop by the ADF Solutions booth to say hello and to enter our drawing for a US combat veteran, handmade keepsake from a Flag of Valor for your home or forensic lab.
Rich Frawley, our Digital Forensic Specialist, who spent 22 years in law enforcement will be leading 3 digital forensic training sessions:
Solving Crimes Against Children with Digital Evidence Investigator (In the NW3C Lab)
Introducing ADF Mobile Device Investigator (iOS & Android)
On-Scene Digital Investigation Best Practices: from CyberTip to Court-Ready Paperwork
Our team will be available to demo our new Mobile Device Investigator (MDI) which was built to empower field investigators to perofrm Andorid and iOS smartphone and tablet investigations. MDI is easy-to-use, especially for current ADF customers who will enjoy the same great collection, analysis and reporting interface and functionality they've come to depend on in Digital Evidence Investigator, Triage-Investigator and Triage-G2.
If you haven't attended NCCC before, take a minute to review the 2018 conference highlights and see why we've named the NCCC conference one of the Best 2019 Law Enforcement Conference in North America.
Can't attend? You can still benefit from some of ADF's best digital forensic training content by signing up for one of our upcoming webinars, watching a webinar recording, or visiting ADF's free learning portal.