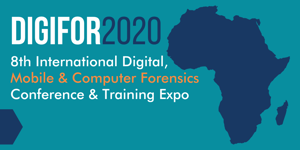 ADF Authorized Partner, First Digital & Techno-Law Forensics and the Computer Forensics Institute of Nigeria are hosting the International Digital, Mobile and Computer Forensics Conference & Training Expo as a virtual edition.
The conference, also known as DIGIFOR2020 will be held September 23-25, 2020 and will feature sessions including:
Understanding the Intelligence Process and Cycle
Leveraging Open Source Intelligence in Criminal Investigations in Nigeria
iOS Forensics
Digital Forensic Triage - Saving Time On-Scene and in the Lab
Electronic Data versus Electronic Evidence: Social Media and the Courts
Text Message Extraction
Digital Forensics: Understanding the Role of Expert Witnesses
This 8th annual conference will begin with a keynote from the organizer, Professor Peter Olubusola Olayiwola wh is the President & Chairman, Certification Board, of the Computer Forensics Institute of Nigeria. Other speakers include:
Dr. Muktar Bello - Head of Quality Control and Assurance of the Forensics Directorate, Economic Financial Crime Commission
DCP Shehu Sani Gwarzo - Nigeria Police
Richard T. Frawley - ADF Solutions
Yuri Gubanov - Belkasoft
Dr. Bababjide Matthew Adeyemi - Department of Computer Science, Caleb University
ADF is the leading maker of the best front line digital intelligence tools that are designed for field and lab use by non-technical agents and operators. ADF triage tools are automated to find digital evidence fast - built using artificial intelligence and machine learning to provide rapid image and video classification.
With speed optimized software, ADF digital forensic capabilities are used to fight child exploitation material (CSAM, CEM), human trafficking, fraud, cybercrime, insider threat and quickly gather digital evidence in field and lab settings.
Multi-lingual translation and text analysis capabilities use Natural Language Processing (NLP) to translate text from over 230 languages into English used in DOMEX and field intelligence operations.