ADF's newest software versions include new field tablet capabilities and smartphone collection features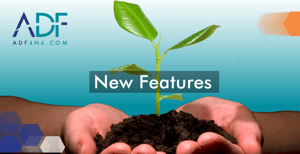 Bethesda, Maryland: ADF Solutions, the leading provider of automated forensic software for investigators and lab examiners, today announced new software versions focused on rapid digital evidence collection for iOS / Android devices and computers.
"We are learning that cybercrime around the world is continuing to grow even with the COVID-19 global pandemic", stated Bret Peters, CEO of ADF Solutions. "The rise in internet crimes will cause increased forensic backlogs which will further challenge digital investigators everywhere. Our team of experts is focused on innovation and we continue to provide cutting edge solutions for investigators that want to start solving investigations on-scene. It is critical that communities have tools to quickly identify victims and suspects while efficiently reducing forensic backlogs."
ADF's new digital forensic software features include:
User Interface Improvements

- Focused on responsiveness for touch screens used on the MDI Field Tablet and DEI PRO Field Tablet and forensic kiosk deployment.
Screenshot Capabilities - Capture and organize screenshots of connected mobile devices while navigating on the device.
File and Artifact Capture - Includes new artifact capture capabilities for TikTok on iOS, Microsoft Edge browser (Chromium Base - Windows), and application usage data on iOS.
Financial Transactions - A new financial transactions table supports data from the collection of data from the Revolut mobile app.
Child Exploitation / CSAM Improvements - For investigators working with Project VIC hashsets, we updated the platform to support the latest VICS 2.0 format.
Reduced Scan Time & Improved Analysis - Investigators can prioritize post scan tasks and analyze message threads in a conversations view
The new software versions are available across the ADF platform with updates to the following digital forensic / forensic triage products:
Qualified professionals can request a free trial of ADF forensic software at www.tryadf.com.
About ADF Solutions, Inc. ADF Solutions is the global leader in automated digital forensic software for digital investigations. ADF tools streamline digital investigations, reduce forensic backlogs, and provide digital evidence results and intel from iOS and Android smartphones and tablets, as well as computers, external drives, drive images, and other media storage (USB flash drives, memory cards, etc.) devices. Rosoka multilingual entity extraction capabilities are included in Triage-G2® and Triage-G2® PRO and can be purchased as an add-on to Mobile Device Investigator®, Digital Evidence Investigator®, Triage-Investigator® or any of ADF's PRO tools as well as Field Investigator™ for Teams and MDI or DEI PRO Field Tablets.