When you find yourself looking for something to watch this season, you may find yourself scrolling through Netflix, Disney+ or Amazon Prime Video to find something to watch. Choosing what to watch while you relax in front of the TV or your computer can cause you to tense up before you're able to settle back in.
If you're a fan of American novelist Tom Clancy or if you just like military science or espionage stories, you might like Jack Ryan featuring John Krasinski (aka Jim from The Office). Jack Ryan is a former U.S. Marine turned CIA analyst who is somewhat reluctantly drawn into a dangerous field assignment after starting a fraud investigation that morphs into a counterterrorism investigation.
Without giving any specific spoilers, what captivated the attention of the ADF Team members who have watched the Jack Ryan series was how the investigation led to a military raid which ended in the special operators commencing Sensitive Site Exploitation (SSE). As the makers of Triage-G2®, the world's leading digital forensic triage software, many of us were pleased to see the powerful benefits of uncovering military field intel with site exploitation being included in the show.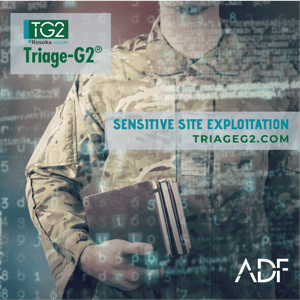 According to the U.S. Army, "Site Exploitation is systematically searching for and collecting information, material, and persons from a designated location and analyzing them to answer information requirements, facilitate subsequent operations, or support criminal prosecution."
ADF's Triage-G2® PRO software supports site exploitation by empowering non-technical forward operators to rapidly collect and begin to analyze electronic devices (Android/iOS devices, computers, USB drives, SD/SIM cards, etc.) for valuable intelligence or digital evidence.
Document and Media Exploitation is often referred to as DOMEX and in the case of ADF software, the rapid collection can take place in as little as two minutes since data collection is prioritized for high-value evidence and intel which can help support a variety of mission sets including:
Counterterrorism
National Security
Force Protection
Human Trafficking
Weapons of Mass Destruction
Learn more about Triage-G2®, now with Natural Language Processing (NLP) text analysis for foreign language translation to English with entity extraction. Triage-G2® is easy to use and deploy in the field with an easy 2-step acquisition process.